NRS Catalyst Gloves
$59.95 CAD
NRS Catalyst Gloves are the perfect cold weather glove for paddlers and windsport enthusiasts. Flexible 2 mm Extend™ neoprene and taped seams retain warmth, while the soft-seam design delivers total comfort. Seams are taped for extra protection and the silicone pattern on the palm provides excellent grip for paddle and wings. A fitted, stretchy slip-on wrist cuff makes the glove easy to put on and take off and the pairing snaps on the wrists helps keep the gloves together in your dry bag. When conditions on the water cross the line from cool to cold, step up to NRS Catalyst Gloves.
Features
• 2 mm Extend neoprene offers 30% more stretch than other neoprenes for better flexibility and dexterity
• Soft-seam design eliminates pressure points inside the glove to keep your hands comfortable all day
• Seams are taped for 100% waterproofness up to the cuff
• Silicone grip pattern on the palm provides excellent paddle and oar control
• A fitted, stretchy slip-on wrist cuff makes the glove easy to put on and take off
• Pairing snaps on the wrists help keep the gloves together
Shipping
Local Pick Up
• In store pick up is available Tuesday through Sunday from 10:30 AM to 6:00 PM
• We are closed on Mondays through the fall and winter months
• After completing your order, your purchased items will be set aside for you and ready for pickup
Greater Victoria / Vancouver Island / BC / Canada
• We ship orders within 24 hours through Canada Post. Should your order be placed after on a statutory holiday, it will be shipped the next day. 
• Shipping cost is based on the size and weight of the total order.
• Shipping charges for your order will be calculated and displayed at checkout.
• Standard Canada Post delivery within Canada can be anywhere from 2 to 7 days depending on location.
• Priority Post, XpressPost and Expedited Parcel delivery times vary – see chart below – based on proximity to our shop (we are on the west coast of Canada).
• Flat rate shipping for Canada Post is available on certain products only (based on item size, weight, and quantity). Same delivery times as Expedited Parcels.
Checking Order Status
• Use the tracking number provided to check delivery status of your package
International Orders
• We are currently only shipping within Canada at this time
Additional Information
• For further details on our Shipping Policy including returns and refunds check here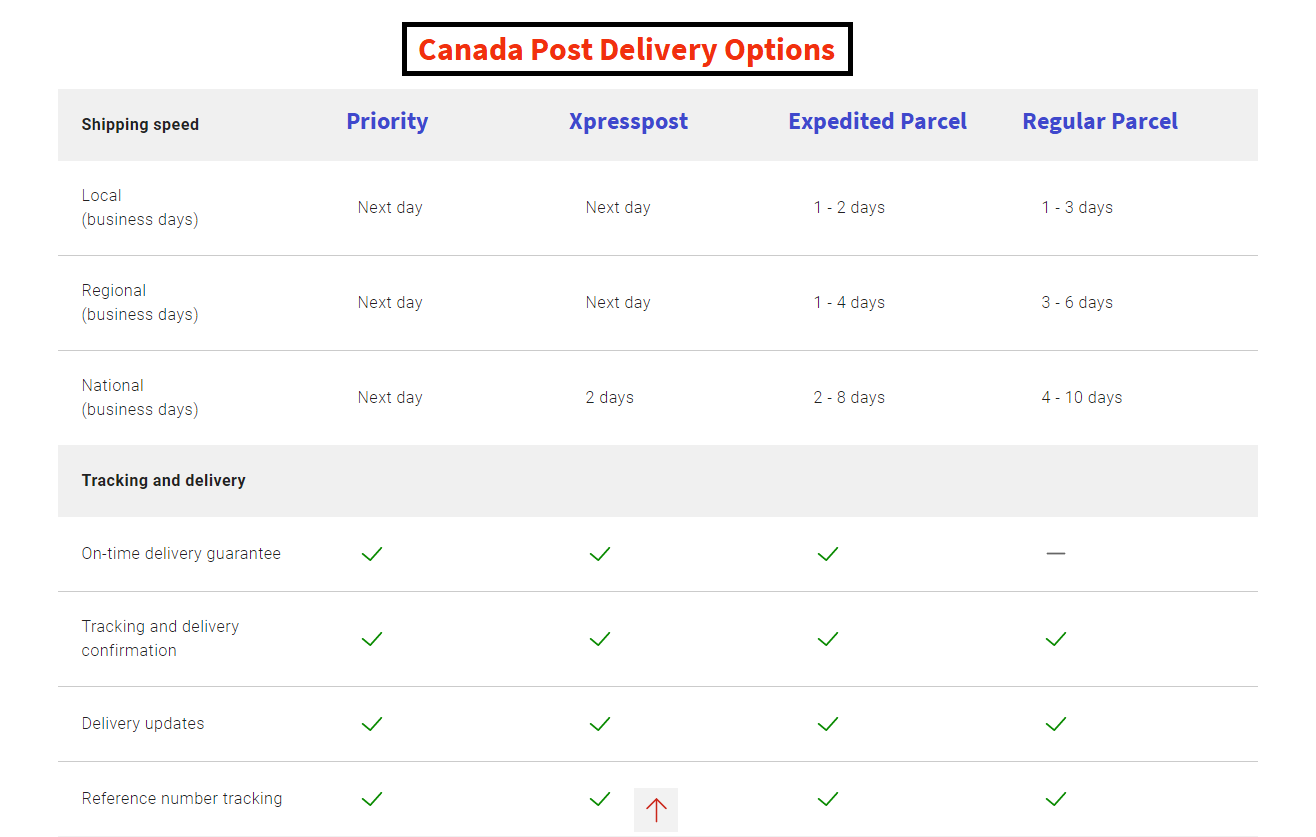 Sizing Guide